IJMB Registration 2023/2024 Form Session Is Out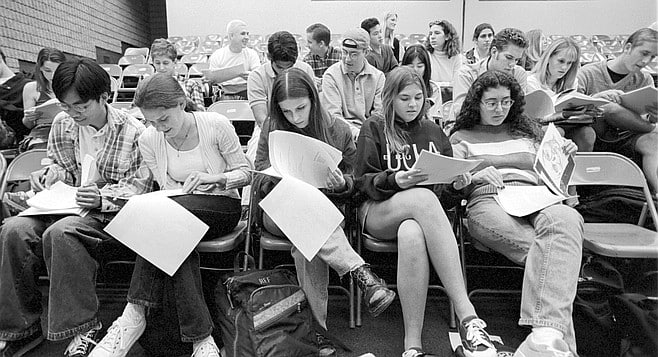 IJMB 2023/2024 Registration
We are glad to announce to you that the IJMB 2023/2024 registration date is now out and interested candidates can apply to any of our study centres here IJMB admission.
Take note that further instructions will be communicated to you via your personal email address. While applying for the IJMBE for the 2023/2024 session, you are to use your personal email, please do not use cafe email.
Continue reading below for all the needed instructions and step by steps. After reading through it, you can start your registration for the 2023/2024 IJMB academic session
About IJMBE
IJMBE means Interim Joint Matriculation Board Examination is a programme moderated by Ahmadu Bello University which is about 9 – a month that students can use to gain admission to 200 level of almost Nigeria universities.
Applicant's chosen IJMB centre details will be communicated to them immediately they register as from now onward within 24 hours after registration.
Interested candidates should follow the instructions below in order to register. Students should also take note that the Registration for the IJMB will commence today being December 6th 2021 and the lectures will run from March 2022 to May 2023 and by June 2023, students will write their final examinations.
All things being equal, the results should be out by the end of August or September May 2023 and that will be used to secure admission into 200 level in the same year 2023 into 200L.
How To Avoid IJMB Registration Fraud On Internet.
There are lot of confusion and over100 a hundred of fraudulent websites on the internet advertising IJMB and they are even posting unrelated account details for unsuspecting IJMB students to pay money into it. Our only website is IJMB.com.ng Click here to visit ijmb website.
IJMB 2023/2024 Registration
Students are to avoid paying any amount no matter how little it is to any account details not related to IJMB. The only account known to us is IJMB Alevel Registrations. Any account different from this should avoid it. The account name for IJMB is IJMB Alevel Registration with Account number 0163836217.
Parents and guardians should be aware or call 08105087367 to report fraud. Email us on [email protected] or [email protected]
IJMB Helplines 08111357171, 08105087367
Parents and guardians are advised to help their wards by giving them the quality education they deserve. Standard education is the best gift we can ever give to our children and to the candidates, please don't take the opportunity for granted.
Every second counts, as time waits for no man. To the students, know this one thing, IJMB is meant for only the serious-minded, and if you know you will not be regular with lecture attendance and you will also not be studious, then, for your own good and the purse of your sponsors, don't bother registering for the IJMB programme.
A total sum of #198,000 to #268k depending on the IJMB centre is the fee that covers the programme. This cumulative fee covers the registration fee, acceptance fee, school fee, lecture fee, textbooks and materials, hostel fee. This fee is not refundable.
Also, note that IJMB is not an avenue to exercise freedom from home. (Some IJMB centres fees are above these stated fees mainly due to hostel fees, once you print the IJMB form, the fees are well stated for each study centre)
IJMB registration 2022 date IJMB
IJMB syllabus is available to those who register directly on this portal and do not use a third party or any agent to do so.
If you insist on paying at the centre (due to fraud, you might not get the syllabus for the fact that everything is already linked with online registration and it's available automatically after payment of acceptance fee online on the IJMB registration portal
IJMB 2023/2024 Registration
IJMB 2023/2024 Important Dates To Take Notice
The official date for the commencement of IJMB registration is as from late September
As soon as you register, the closest centre to you will be sent to you
Lectures for IJMB for the session will start fully by mid-March
Further information will be sent to students from time to time via their email address ( please do use your personal email to send your registration form to us)
The PDF file for the courses registered for will be sent to students starting from late September. Which is the combination of the syllabus and the course outlines for the courses candidates registered for?
The final examination will commence by early June 2023
By late September of the year 2023, the result should have been released by ABU, ZariaAnd with your result, you can now use it to apply to any of the universities accepting IJMB into 200 level

the same 2023 with your

Direct Entry form (DE)
Payment of the initial school fees at least 50% of the total IJMB centre fee (minimum of #99,000)

should be paid on or before resumption March 6th 2023 to the account details that will be accompanied the student IJMB admission letter

We currently have approved IJMB study centres in Ilorin, Akure, Sango – Ota, Ondo Town, Orlu, Enugu, Uyo, Kabba, Lagos, Abuja, Port Harcourt, Ekiti and Ibadan etc. See all available IJMB centres Here as at today
IJMB Registration 2023/2024 Quick Links
Here are some important links to crucial information for the IJMB Registration 2022
IJMB Helplines: 08105087367, 08111357171
Interim Joint Matriculation Board Examination Requirements For 2023/2024
Before you can make use of your Interim Joint Matriculation Board Examination results there is this primary requirement you are expected to have reached, which we think is no problem to you as a candidate.
The primary requirement for anyone seeking to attend or register for the Interim Joint Matriculation Board Examination programme is to have his O level result complete or at least awaiting the result.
For some with an exception that you are going to write your O level result while the program is going on, note that you can't make use of the Interim Joint Matriculation Board Examination result without having your O level result completed.
IJMB 2022 Registration: Who Can Attend Interim Joint Matriculation Board Examination Programme?
As long as you meet the minimum requirement of your O'level. Check out all the IJMB requirements
How To Make Use Of Your Interim Joint Matriculation Board Examination Result?
To use your Interim Joint Matriculation Board Examination result to gain admission into 200 Level, you need to visit JAMB website or their nearest office to obtain D.E form (Direct Entry), fill out the form in correlation with your Interim Joint Matriculation Board Examination result.
By then you have the opportunity to choose a first and second choice university.
Another interesting thing is, you have the opportunity to choose your course which will be determined by how many points you were able to obtain from the Interim Joint Matriculation Board Examination exam from your Interim Joint Matriculation Board Examination result.
IJMB 2023/2024 Registration Steps By Steps Instruction
0. Before you make payment. See that you are in interested in available IJMB centres today to avoid wasting your money.
( https://ijmb.com.ng/registration-fees )
1. Pay for your registration fee( http://tiny.cc/ijmbform )
2. Fill the form ( https://ijmb.com.ng/ijmb-registration )
3. Confirm your email by clicking on the verification link sent to you
4. Then during confirmation, you will be redirected to the page where you will select your centre and method of payment
5. Do that (select your preferred study centre and method of payment)
6. Then we will confirm your payment by activating your portal( for quick resolving, upload your payment evidence, screenshot, teller, are all accepted)
7. After that you will be redirected to fill the parent/guardian form
8. Then you will receive your admission letter
9. Then within 2 weeks, pay your acceptance
10. Then resume to your centre from February 21st
11. When resuming bring along at least 50% of your centre fee – to be able to resume lectures, given textbooks and accommodation (optional)
12. You can start resuming from the 4th of April, 2022