There are many accredited IJMB centres in Nigeria, and at the IJMB portal, students have the opportunity to select their choice while they are registering, and we do have Accredited IJMB centres in Kwara, Lagos, Ogun, Ibadan, Osun, Ekiti, Ondo Abuja etc.
All of our other centres are in the capital city of each state, except the IJMB centre in Delta state. To apply to any the centres please follow the procedure below in other to get registered. We do expect students to choose anyone they wish to go for in IJMB Online form.
If you have not printed the form out, you can print out IJMB form and fill the fields with capital letters. And this how you can register for the IJMB programme. For people who are still confused about what an IJMB programme is all about, IJMB is an Advanced nine to ten-month programme that takes successful students into 200 level of almost Nigerian universities.
Currently, You can see the list of Nigerian universities that accept IJMB programme in and to know what the programmes entail, by reading all about ijmb programme. We have made the registration of IJMB easier for candidates and how to get their desired IJMB centres that is close to them.
Available IJMB Centre Under Us As At Now
IJMB Centres in Kwara,  Ilorin View
IJMB Centres In Port Harcourt View
IJMB Centres In Akwa Ibom, Uyo View
IJMB Centres in Oyo, Ibadan View
IJMB Centres in Lagos State View
IJMB Centres In Abuja View
IJMB Centres in Ekiti View
IJMB Centres in Abeokuta View
IJMB In Ondo View
IJMB Centre In Delta View
IJMB Centre In Imo, Owerri View
IJMB Centre In Osun, Oshogbo View
IJMB Centre in Enugu View
IJMB Centre in Edo State, Benin View
IJMB centre in Ebonyi View
IJMB centre in Anambra, Onitsha
We also need to warn students never to pay physical cash to anyone claiming to run IJMB, since this transaction is not easy to trace at our end. We are only using only one account details, you take the responsibility of paying physical cash to anyone or paying to the wrong account. The only account details we are using as a body.
Account Name: IJMB ALEVEL REGISTRATION
Account No: 0163836217
Bank: Guaranty Trust Bank (Gtbank
If you are looking or searching for IJMB centres in Ilorin, or the IJMB centres in Port Harcourt, you are close to Oyo, and looking for IJMB centres in Ibadan, or our accredited IJMB centres in Ogun at Abeokuta, we will plead with you to take cautions, read where we have our different IJMB centres and take note of them not to fall victim.
How To Apply For IJMB Below
2. Then do pay the form fee which is currently #8,500 online while registering or you can make transfer deposit to the following account number if you select bank payment during the registration
Account Name: IJMB ALEVEL REGISTRATION
Account No: 0163836217
Bank: Guaranty Trust Bank (Gtbank)
3. If you pay online, you will automatically see your center details, full address, name, total fee with and without accommodation, and installment payment plan
5. After you upload the payment evidence, within 4 hours, an admin will check and approve your payment evidence and then you will be able to see your admission on your email address and in your portal, you can print/view and download your admission letter and your filled form
7. Within 2 to 4 hours, a reply will be sent to you via the email you used to send the scanned data to us, the email will include other few details you need to know as an IJMB students and the full courses outline (syllabus) for you to start studying them before you resume lectures at any of our IJMB centres that will be sent to you.
You will be able to select your preferred study centre, choose online payment or bank payment and update your previous academic details.
The total fees you will be paying through your IJMB programme with us in any of our centres  #168,000 to #255,000 (including textbooks and accommodation) without accommodation is #10,000 to #60,000 depending on your study centre till you write your final examination which is always due by February every year.
Check the image below to see most of the centres you can choose from and their location and total fees.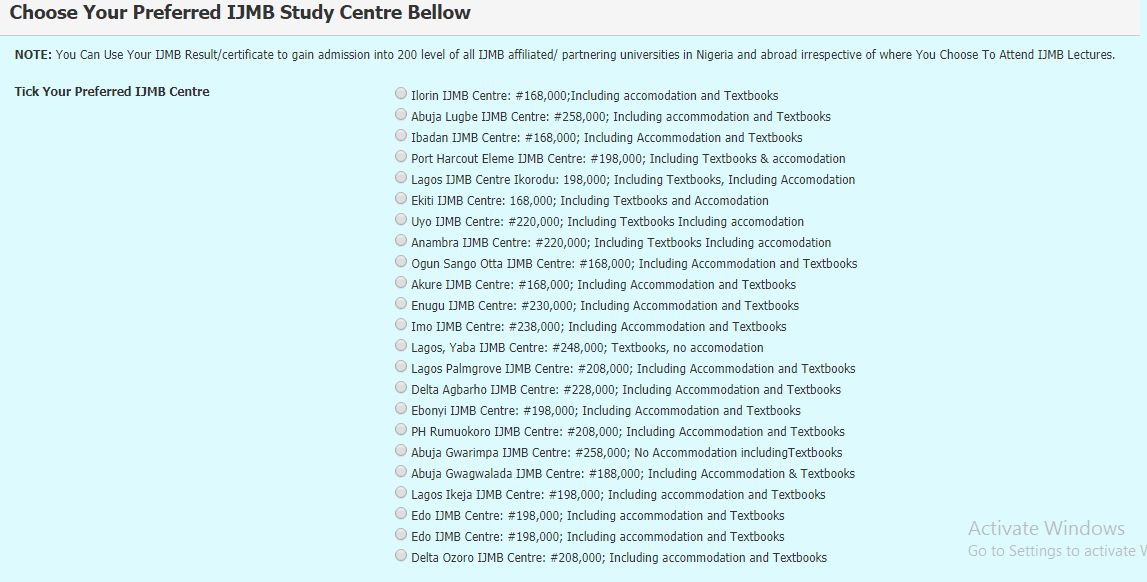 Finally, we should call you to ask you if  you have any questions or clarification you want us to answer or make
Cheapest IJMB Centres In Nigeria
The cheapest IJMB Centres in Nigeria are at Ilorin, Ibadan, Ondo Town, and Oshogbo. You can register in any of these IJMB accredited centres for the cheapest fee of #188,000 to #198,000 with accommodation and textbooks.
IJMB Helplines: 08105087367, 08111357171