JAMB change of course
The JAMB change of course 2022 is out. We understand that the JAMB change of course and institution for 2022 has commenced. This was confirmed from the official Twitter handle of JAMB. Candidates can process their changes at accredited centres or JAMB offices.  The below is how to change of course after admission
Please do note that candidates will be required to make a payment of N2,500 for the process.
jamb change of course form 2022
So we urge other candidates who wish to change their course/ institution to proceed to an accredited centre or JAMB office for that purpose. You can also correct your Bio-data which include your name, date of birth, gender, State and Local Government of origin.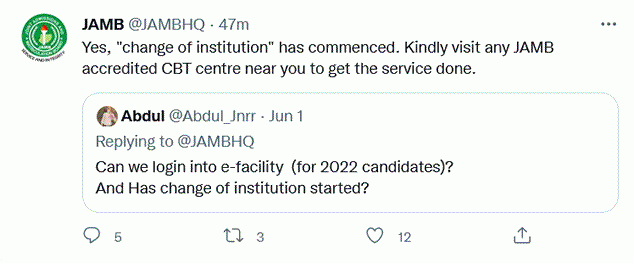 It is important for candidates to confirm if they meet the requirements of the course and the institution they intend to change to before proceeding. The Myschool JAMB brochure can help you out with that.
To make it a lot easier, candidates who intend to change either a course or institution can provide their details here so that enlightened Myschoolers can inform them if it is a good move or not.
Such candidates are to provide details like their current course/institution of choice and the one they intend to change to, the reason they want to make the change and their UTME score. Please ensure your details are posted as a fresh comment and not a reply to someone's comment or details.
How To Do JAMB Change Of Institution 2022/2023
How To Do JAMB Change Of Institution 2022/2023
Visit any nearby JAMB Office or JAMB Accredited Centre close to you.
Request For JAMB Change of Institution Form
Make Payment of N3,500
Select your preferred first, second, third, and fourth option of Institution.
Complete the form, and Submit
Thumbprint
After filling out this form as well as thumbprinting it, the JAMB officer in charge will take care of the change in Institution through CAPS, the JAMB CAPS portal.
Then, you can get you JAMB Change of Institution printout
JAMB Change Of Institution Form Closing Date 2022/2023
change of institution closing date
Closing Date And Deadline:
The Joint Admissions and Matriculation Board (JAMB) has set the 17th of February as the date of closure of the 2022/2023 JAMB transfer of institutions.
This implies that JAMB will cease to sell UTME transfer of institutions forms on February 17, 2023.
Can JAMB Change Of Institution Be Done Twice?
YES!
The JAMB Change of institution is possible to repeat the process twice!
Changes in Institution does not end admissions are made and gone however, the change in JAMB's institution is not over.
This means you can perform a JAMB transfer of institutions up to three times.
Can I do Change Of Institution After Post UTME?
YES!
It is possible to transfer to another one after passing the POSTUTME in case you did not attain the minimum cut-off marks for your particular course.