Welcome To IJMB Official Website For Registration, Admission & Portal Management
Welcome to IJMB REGISTRATION PORTAL, a world-class examination body for educational advancement, assisting students to secure direct admission into 200 Level in various universities, in Nigeria and Abroad.
The Institution was established to provide qualitative and reliable educational assessment, encouraging academic and moral excellence and promoting sustainable human resource development.
Hundreds of Thousands of students apply and sit for UTME yearly but only about 20% are successful in securing admission into Nigeria universities. Most of these candidates, who fail to secure admission, reapply in subsequent years thereby worsening the admission burden in Nigerian Universities. Even for those who come off successful with over 200 score in UTME, some of them end up not being able to secure admission. The worst dilemma is that they cannot use the result in the following year, as UTME result is only valid for one (1) year, as against the IJMB result which has no expiry date.
This is particularly why IJMB Advanced Level programme is a better recommendation. Other Advanced level programmes, apart from IJMB include NAGCE, CAMBRIDGE, among others.
The IJMB Advanced Level programme runs for a period of two semesters, after which a successful IJMB student graduates into 200 level in the University through direct entry. All courses are available for the IJMB programme.
Candidates seeking admission into the IJMB programme must possess a minimum of 5 Credits in relevant o'level subjects from WAEC, NECO or NABTEB in not more than two sittings. Awaiting result can also apply for the IJMB programme.
Lectures on IJMB programme are guided by the approved IJMB syllabus and the contents of the IJMB syllabus cover the University 100 level syllabus and above, which must be taught within a period of two semesters.
The entire IJMB examination process is moderated by the IJMB headquarters, ABU, Zaria together with JAMB-approved moderators at the approved IJMB affiliated institutions.
How To Register For IJMB Program 2022/2023
 
Before you make payment. See that you are interested in available IJMB centres today to avoid wasting your money.
( https://ijmb.com.ng/registration-fees )
Pay for your registration fee( http://tiny.cc/ijmbform )
Fill the form ( https://ijmb.com.ng/ijmb-registration )
Confirm your email by clicking on the verification link sent to you
Then during confirmation, you will be redirected to the page where you will select your centre and method of payment
Do that (select your preferred study centre and method of payment)
 Then we will confirm your payment by activating your portal( for quick resolving, upload your payment evidence, screenshot, teller, are all accepted)
After that you will be redirected to fill the parent/guardian form
Then you will receive your admission letter
Then within 2 weeks, pay your acceptance
Then resume to your centre from February 21st
When resuming bring along at least 50% of your centre fee – to be able to resume lectures, given textbooks and accommodation (optional)
You can start resuming from the 4th of April, 2022
 
IJMB Closing Date
IJMB is still ongoing and is closing soon. Click here to IJMB closing date When IJMB form finally close, you won't be able to apply for the session and that means you have to wait for next session or write IJMB alternatives
IJMB Lectures
IJMB is a full-time program. And lectures take place Monday to Friday every week except on public holidays, and general holidays. IJMB lectures depend on your timetable. Each lecture takes about 2 hours and most times students have two lectures a day. Learn More about IJMB Lectures
IJMB Exam Date
IJMB exam is always between April and June every year, and each subject is divided into courses and can be divided into two segments or three depending on if you are in Science Department or Art/Social. IJMB exam is fully theory and practical no objective. Each is between 2 hours to 3 hours. Find More details about IJMB exam here
Benefit Of IJMB
APPROVED : The programme is approved by the FEDERAL GOVERNMENT as a platform for securing university admission into a university in Nigeria and outside. Its moderated by ABU, Zaria with different study centers nationwide.
CERTIFIED: By NIGERIA UNIVERSITY COMMISSION(NUC) as an A' level program that qualifies students into 200 level in the university upon successful completion of the program.
ACCEPTABILITY: IJMB is accepted in over 80% of Nigerian universities and even abroad.
IJMB lectures take place between 8 Am to 6 PM, Monday to Friday, some centres only takes lectures between 10 Am to 3 PM, as long as you up to 4 hours lectures a day, you are good.
How IJMB Grades Result/Exam
IJMB has become a perfect substitution for school leavers who couldn't meet up with the school rigorous challenges faced in processing admission into Tertiary Institution in Nigeria.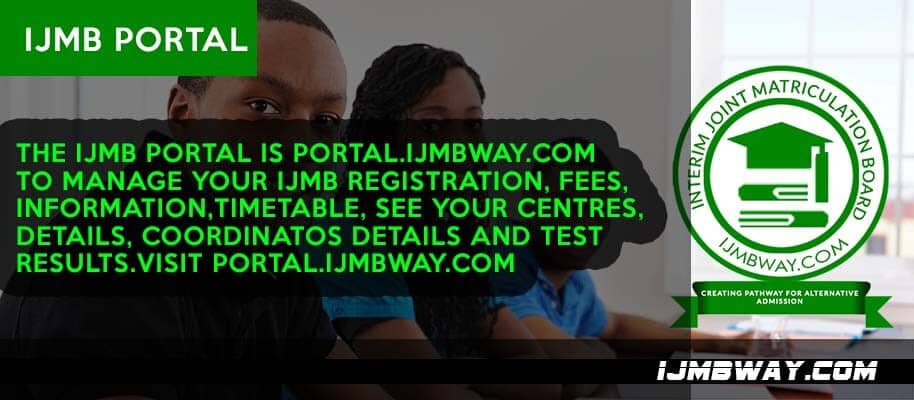 Mark your resumption to your IJMB centre
Check your entrance exam result
Read admission letter
Print your details
Change your password
Check your coordinator's details & phone number
Check your centre details and address
Download IJMB past questions
IJMB Major Centres
Logas IJMB Centre
Centres is available in Ikeja, Ikorodu, Ijaiye, Ajah and Palmgroove
Abuja IJMB Centres
Cenres are available in Lugbe, Jikwoyi, Gwarinpa and Gwagwalada
Ibadan IJMB Centes
IJMB Centres are available at UI 2nd Gate, Challenge, Manaton, Academy Iwo Road
Ilorin IJMB Centres
In Ilorin centres are available at Sango, Kilanko, Tanke, Agba Dam, Asa Dam
Rivers IJMB centres
IJMB centre is available in Port Harcourt at Rumuokoro
Anambra IJMB Centres
Onitsha and Nnewi are available to select from